Covid-19 Emergency Appeal
Help us protect the poor and the most vulnerable from Coronavirus in India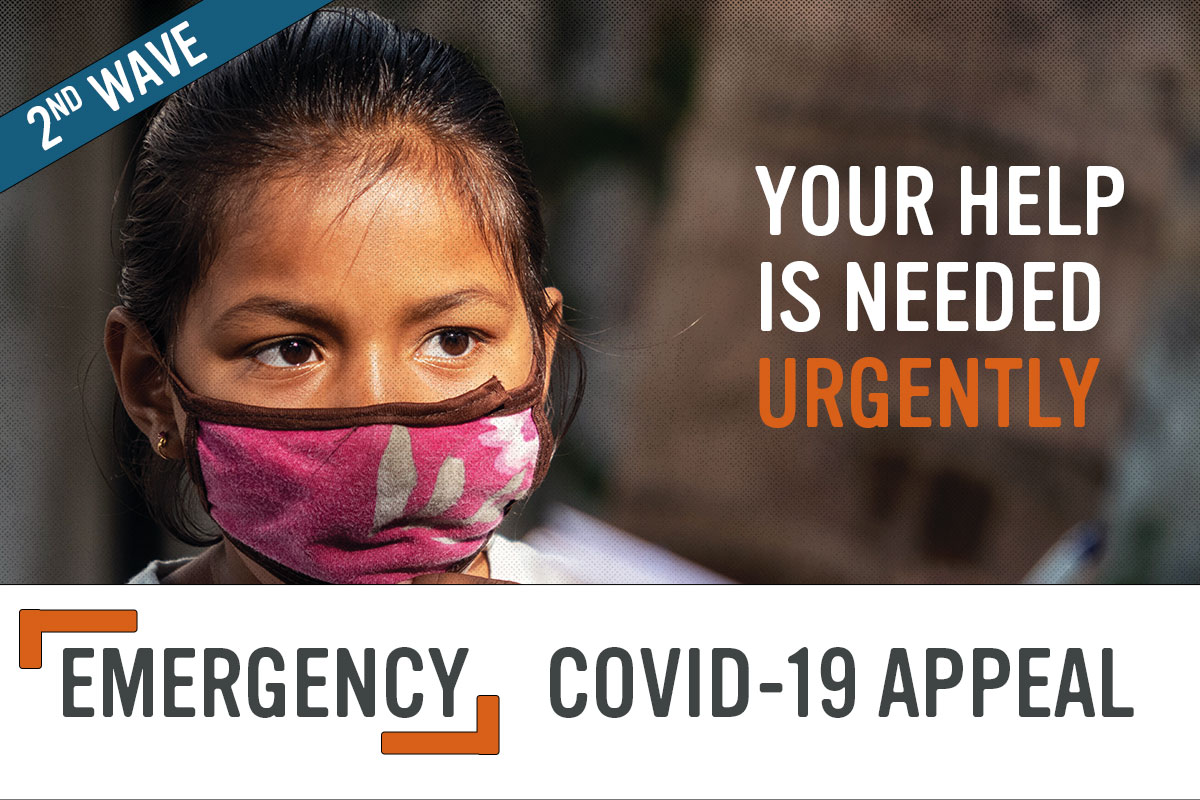 Why?
Last year's Covid-19 pandemic saw a nationwide lockdown imposed in India creating chaos. The poor and marginalised, part of the informal economy and reliant on day labour, find themselves with no work, no money, and no food. The healthcare infrastructure creaked at the seams with government hospitals and testing centres overwhelmed, turning patients away.
India has been hit by a second wave of Covid-19 infections and deaths, bigger and growing much faster than last year's. Over 400,000 new infections a day were being reported (1 May) - the highest in the world. The virus is rife in the villages as well as the cities and slums. The healthcare infrastructure creaked at the seams with government hospitals and testing centres overwhelmed. There are shortages of oxygen and medication in the hospitals. People are being turned away. People are dying.
This is why we do what we do!
What?
Working through our network of almost 100 schools, clinics, health workers and other staff, our Indian colleagues are striving to protect the most vulnerable. This includes malnourished children and adults suffering from underlying health issues.
Thanks to your help we are responding to the crisis by:
Treating patients through our network of hub and regional spoke clinics, as well as our new eClinics connecting patients to doctors through video-link with the assistance of our community health workers.
Distributing Covid-care kits through our network of community health workers. Kits include medication, face-masks, thermometers and life-saving oximeters.
Setting up a 10-bed Covid-care ward at our hub clinic, and pop-up Covid-care facilities at several of our eClinics and schools. In addition to medical supplies we have also obtained oxygen canisters and concentrators that are being used.
Providing food, nutrition and other essential supplies to families who are facing starvation due to the serious illness or death of wage-earners in the pandemic.
Providing dignity and care, as well as psychological and emotional support
And much more!
Lives have been saved through our efforts.
How?
Although infection rates appear to be declining, they are still high, and even rising, in many rural areas. There are also serious concerns that an even more deadly third wave may be on the horizon.
Please help us continue to respond to this emergency, prepare for future challenges and protect the most vulnerable. Help us save lives and give hope to the poor and the marginalised, and to those who seek to help them.
Donate now to our Covid-19 Emergency Appeal!
With your help, we can.
can make it happen
We want to help protect the most vulnerable from coronavirus and from the devastating effects of no income due to the crisis.
With your help, we can.
Click the donate button and select 'Covid-19 Emergency Appeal' from the options on the form.